from www.thaibhikkhunis.org
This land was purchased from H.M.Indrasakdisaci, Queen of King Rama IV in 1960. Ven.Bhikkhuni Ta Tao Fa Tzu (Varamai Kabilsingh) was the founder and built the Uposathagara (Main chapel) as well as Dhammapisamai school respectively.
Watra Songdhammakalyani is a temple that is completed with Uposatha Hall and Sima boundary as prescribed by the vinaya, therefore it is ready for ordination. The first lower ordination (samaneri) was given by Bhikkhuni Upajjhaya R.Saddha Sumana from Sri Lanka in 2002, and again in 2005 both ordination ceremony were witnessed by Thai bhikkhu sangha. But because the Thai Government has not yet recognized the bhikkhuni status, the temple has not been registered as a temple yet.
However, there is Buddhasavika Foundation that the temple is associated with for its activities.
Usually the temples in Thailand are called "Wat", but here we have "Watra" which is a Sanskrit word meaning "practice" it is the same as Pali "Wat" (w for v)but in Thailand we prefer to use the Thai spelling "Wat", all the three words mean the same only they are in different languages.

In 2001 after the ordination of Ven.Dhammananda, she added yet 3 more rai to the existing 6 rai of land which was previously given by Ven.Voramai Kabilsingh.
Voramai Kabilsingh was born in 1908 started her education in Catholic school and was the first woman to graduate with physical education. In 1932 she went to Singapore on a bicycle with a group of boy scouts. She spent many years as a journalist and editor of a local weekly magazine. She got married in 1946 to Korkiat Shatsena, a member of parliament and representative of people in a southern province.
She had only one child who later on became Dr.Chatsumarn Kabilsingh and presently Ven.Bhikkhuni Dhammananda.
Ven.Voramai Kabilsingh started her monastic life by receiving the 8 precepts from Pra Prommuni, vice abbot of Wat Bavornnives, the royal residence since Rama IV. Later she went to Taiwan and received full ordination to become a bhikkhuni in 1971, She continued propagating Buddhism through Vipassana Banthernsarn, a monthly Buddhist magazine for 32 years. Also she was regularly involved in social welfare providing food and clothing for the poor and needy. She sponsored ordination of more than a hundred monks through out the country. More than a hundred Buddha images were casted and offered to various far away village temples.
Ven.Voramai Kabilsingh often was known as Ven.Grandma passed away peacefully at a full ripe age of 96 years on June 24,2003.



Ven. Bhikkhuni Dhammananda, the present abbot was born as Chatsumarn Shatsena. She received her education from India and Canada. She spent 32 years teaching as an associate professor at the Department of Philosophy and Religions at the well known Thammasat University in Thailand. She was divorced with three grown sons and three grandchildren.
She took the turn of life in 2000 when she went to receive Bodhisattva's precept from Fo Guang Shan in Taiwan. The following year, 2001 she went to receive her lower ordination from Sri Lanka. Her female preceptor was Ven.Bhikkhuni R.Saddha Sumana from Tusitarama, Eheliyagoda. Her male preceptor was Ven.T.Dhammaloka of Tapodantamaya, Mt.Lavinia, Colombo.
In 2003 she was ordained as bhikkhuni at the same place, and to further strengthen her lineage she took yet another upasampada in 2005 with her former bhikkhuni Upajjhaya and The Most Venerable Maha Nayaka Sri I.Sumangalo was her bhikkhu Upajjhaya at Dambulla. Her ordination lineage is Syamopali from Dambulla chapter.


Since her ordination she has engaged herself in depth to build a strong foundation for a better understanding of bhikkhuni ordination and for a better understanding of leading a life as a Buddhist. Within the past 5 years she has brought out more than ten books for education of the public.
At the same time her temple is an open space for both men and women, Buddhists and non-Buddhists to come and nourish each other spiritually and physically.


Her temple offers 3-day training courses for public. Students from the US often book to come and enjoy the live-in experience within a monastic setting at the same time receive education of there interest.
The temple also house a Home of Peace and Love providing space and opportunity for underprivileged women and girls to live in a peaceful atmostphere. Girls are sponsored for higher education and training from monastic setting.
Songdhammakalyani Monastry, means the temple of women who uphold dhamma, is situated on Petkasem Hwy, km.52-53 west of Bangkok, just before the proper Nakhonpathom province. Petkasem is a major highway leading west before turning down south, and could continue on to Kuala Lumpur.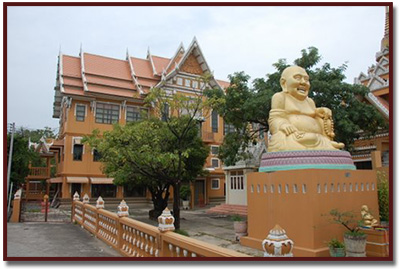 In front of the temple there is a golden laughing Buddha, built some 20 years ago, according to the Ven.Grandmother (Voramai Kabilsingh) "the smiling face of the future Buddha should lessen the unwholesome thought in the mind of the people who see him."
Songdhammakalyani Monastry 195 Petkasem Highway Muang District, Nakhonpathom Thailand 73000